« Back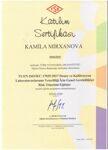 Seminar TS EN ISO / IEC 17025: 2017
04.04.2019 10:38
Employees of Sifat Kafolati Sertifikati took part in a seminar on TS EN ISO / IEC 17025: 2017 "General requirements for the competence of testing and calibration laboratories" with the participation of international expert Mehtap SEZER. The seminar was held April 2-4 of this year.
The seminar examined issues regarding the independence of testing laboratories, the transparency and accuracy of the tests performed, the introduction of modern methods, and risk management.
At the end of the seminar, the international expert Mehtap SEZER answered the participants' questions and received certificates.